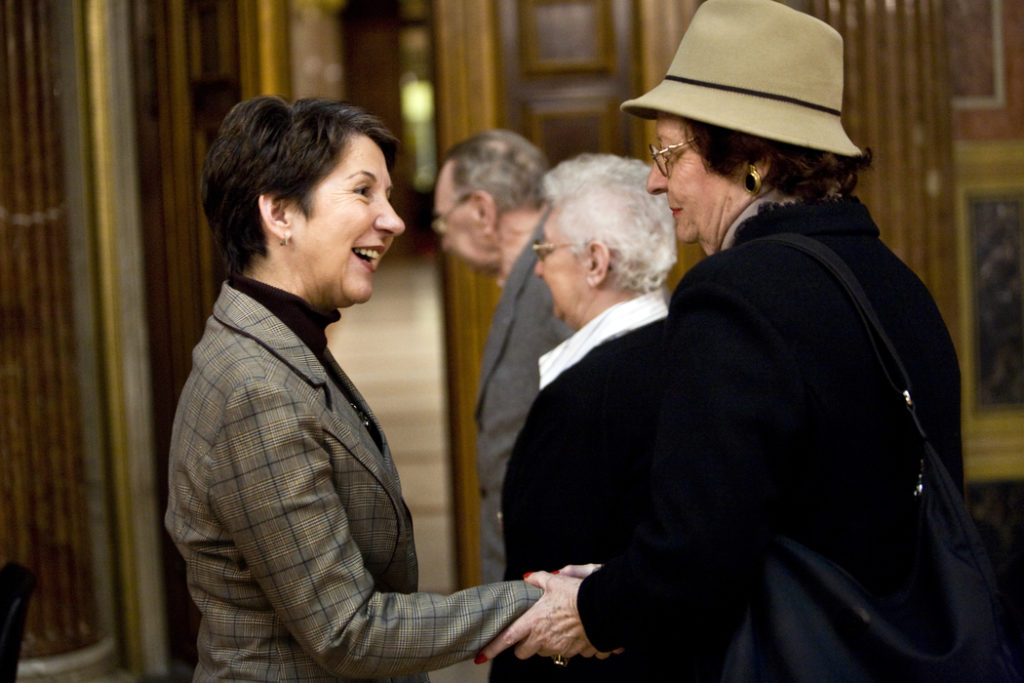 Vienna, Austria
I spent an exciting and efficient afternoon with Sylvia Segenreich. At 76 she is full of energy and joie de vivre, and she recounted her life to me in her elegant downtown apartment. She speaks very fast, has an outstanding memory and greatly enhanced her story with numerous anecdotes. She made it easy to disregard the generational gap between us with her liveliness, and our conversation naturally became very familiar. 
---
Interview details
Interviewee: Sylvia Segenreich
Interviewer: Artur Schnarch/ Tanja Eckstein
Time of interview: May 2002/ December 2007
Place: Vienna, Austria
---
---
My family background
I was born in 1926 in Chernivtsi in Bukovina [1]. Chernivtsi – Czernowitz – belonged to Austria-Hungary until 1918. My parents were in that regard old Austrians and lived in Austria. In 1918, after the First World War and the dissolution of the Astro-Hungarian Empire, Chernivtsi became part of Romania. In 1940 it became part of Russia, went back to Romania in 1941, was part of Russia again in 1944, and since 1991 Chernivtsi has belonged to Ukraine.
My maternal grandfather was called Tobias Schmul and my grandmother was called Rivka Retter. They lived in the village of Boyan [Boiany; today Ukraine]. There they had a large agricultural estate. Between 1914 and 1918 – during the First World War – my grandparents fled Bukovina for Vienna with their children. Both grandparents, maternal and paternal, lived with their children in Vienna during in this time; but they didn't know each other yet. After the First World War they went back to Bukovina. On the journey back my grandfather Tobias died of the Spanish flu. So I was never able to meet him.
My grandparents had eight children – five sons and three daughters – who all grew up in Boyan. I grew up with these aunts and uncles. After World War I, in 1918, most of them didn't go back to Boyan and stayed in Chernivtsi instead. Even my grandmother stayed in Chernivtsi, since my grandfather had died. Two of the sons – Hermann and Moses – kept the estate in Boyan. But then they divided it and Moses bought an estate in Ridkivtsi [Rarancze, today Ukraine], a town near Chernivtsi. I was often in Boyan as a child and Ridkivtsi is not far.
Uncle Hermann, who owned the estate in Boyan, was married to Tina Retter – a cousin from my mother's side. He had a lot of workers on the estate. During the week he was in Boyan and over the weekend mostly with his family in Chernivtsi. The daughters, Miriam and Sidonie, live in Tel Aviv [Israel] today. They survived the Holocaust in Transnistria [2] and came back totally paralyzed. One of them can hardly move till this day, even though so much time has passed since the Holocaust. Neither of them ever married or had children.
Uncle Moses was married to Aunt Frieda. They had a son and daughter. Both of them live in Israel today. The son is named Tobias after his grandfather, but in Israel he's called Tuvie. He also isn't called Shmul anymore, but rather Schmueli. The daughter is called Rosa. Tobias lives in Rehovot and Rosa lives in Ramat Gan. Tobias is the same age as me, and Rosa is two or two-and-a-half years younger. Tobias has three sons who were born in Israel and are all married. Rosa has two sons who were also born in Israel and are married. Grandmother, Moses' and my family lived on Morgenbesser Gasse –  Dobrogei street in Romanian. After grandfather died, Moses built grandmother a small house where she lived until her death in 1934. I visited her a lot because we both lived on the same street. During the war, Moses and Hermann were with their families in Transnistria, in the towns of Mogilev and Djurin. Those were labor camps. Uncle Hermann died in Mogilev. In 1944, as soon as it was possible, Moses left Transnistria with his wife and children and came back to Chernivtsi. In 1945, after the Russians invaded Chernivtsi for the second time, he was able to flee to Romania with his wife and daughters. He wasn't getting any younger and so immigrated with his family to Israel. He and his wife died there.
Oswald was the eldest. He was a lawyer and married to a cousin on his mother's side, who's maiden name was Retter. I forgot her first name as I never knew her personally. I only ever saw Oswald once, since he came to visit Chernivtsi once when Grandmother Rivka was still alive. That was in the 1930s. The eldest daughter, Miriam, was born in 1913. When she was still very young, during World War I, the family fled like all other families to Vienna. Their next son Paul was born in Vienna. Miriam didn't go back to Chernivtsi after the First World War and went instead to Prague where Uncle Oswald was a judge. They lived in Prague until 1938. Everyone except Paul was deported to the Theresienstadt Ghetto [3] during the Holocaust. When the Germans attacked Czechoslovakia in 1939, Paul fled to England and then to Palestine. In Palestine he was in the British Army, and right after the war came back in his uniform to look for his family in Prague. He hoped he would find them but they were dead. Only Miriam survived the war. She was married to a non-Jew but in the Theresienstadt Ghetto nonetheless. I met her husband; he was a respectable man. They had a daughter, Susi, who is dead already, and three sons – the eldest was called Paul. One daughter lives in Australia and is also married to a gentile. Paul died two years ago in the Czech Republic, where the youngest is still living. My Cousin Paul studied medicine in England and lives in Australia.
My mother's next brother was Hermann. In 1912 or 1913 – I don't remember when exactly – he had an accident with a tractor and needed to have a foot amputated. When the Russians arrived to Bukovina during the First World War – that was in 1914 – Hermann stayed with the estate, saying that someone had to look after it. Then the youngest brother, Josef, said, "I won't leave him by himself; I'll stay with him." When the Russians came they were both deported to Russia. I don't know where they were, I only know that they were separated. Josef worked in a fabric shop in a small city. Hermann had a prosthetic leg and worked for a farmer. Neither knew where the other one was. That's what I was told. One day a farmer from the countryside came into the fabric store where Josef was working and wanted to buy some things. He knew the proprietor of the store and asked who Josef was. He answered that he was a refugee or something like that – but a very well-behaved boy. And the farmer said that he also had one like that – well-behaved and decent, but missing a foot. Josef heard this and asked the farmer the name of his worker. That's how the brothers found each other again. After the war they were able to return to Bukovina. Hermann wasn't married and probably worked in agriculture. In 1929 – that was the recession – Josef immigrated to America. He went to Philadelphia and there built up an empire for himself in the jewelry business. He was a very good man and helped many family members financially. I saw this empire once. That was in late 1961. My sister was living in New York at the time. I visited her and we went to Philadelphia to see Uncle Josef. I thought he was sure to be dressed like a millionaire, but he was still wearing his shoes from Chernivtsi and even his suit looked quite modest. He was in his late 50s at the time; he was born in 1902 or 1903. His wife, an American, ordered him around. They had a son. I heard at some point that Uncle Josef had died.
The youngest brother was Rudolf. He lived with his mother for a long time, which I can still remember. He didn't actually have a proper occupation. I don't know why, but during WWI he was still a child. When his father died he stayed with his mother. My father brought him into our business. Then he married Charlotte from Bessarabia and they had a daughter, Rivka. They were also all deported to Transnistria, where my Uncle Rudolf died. His wife and child came back and then immigrated to Israel. Charlotte died in Israel. Rivka separated herself from the whole family. She found a new life partner and disappeared. No one in the family knows where she is. She withdrew completely.
Now come my mother's sisters: The eldest was Jetti. She was married to Isaak Herzig, who worked in a sugar factory. They lived in Chernivtsi and had two children, a daughter, Thea, and a son, Friedl. Thea was six years older than me, and Friedl was two years younger than me. He was physically disabled, unfortunately. He had a normal face but a very large head, with hands and legs that were too short. He was very bright and even attended an academic high school. Isaak didn't survive Transnistria. Jetti and the two children immigrated to Palestine after the war. Thea died in the mid 1990s; Friedl has also already passed.
The second sister was Mali – Malza, they called her. She was married to Artur Dawer from Poland. I don't know which city in Poland he came from. They also lived in Chernivtsi and owned a men's hat factory. His mother was named Sylvia and was already dead, and I was named after her since both my grandmothers were still alive and the Dawers only had boys. My mother told me that, when I was still a child, whenever we met with my uncle's family they would call me "Mamele, Mamele!" They said "Mamele" to me because I had the same name as their mother! They survived the war in Transnistria with their sons, Martin and Friedrich. Then they returned to Chernivtsi but fled to Romania when the Russians came back, and lived there for a while. Artur died in Romania. That was in the 1950s, but I can't say when exactly. Malza immigrated to Israel with her sons. Martin was a doctor in Haifa, but is retired now. He's married to a doctor who also comes from Bukovina. They have a daughter who is also a doctor. Friedrich lives in Tel Aviv. He's married but has no children.
My mother's name was Sophie Schmul. I think she was born in 1897 or a bit earlier. I don't know exactly because she always said she was younger than she was. She always said she was born in 1900, but an aunt told me that that wasn't true. But it doesn't matter! Like her siblings, my mother was also born in Boyan, fled with the family to Vienna in 1914, and came back to Chernivtsi in 1918. My father was friends with her brother Moses. That's how they met. My father was called Pinkas Paul Engler.
My father's family owned an ice factory in Chernivtsi. The Englers were a well-known family. If you speak to people from my generation from Chernivtsi, all of them know the Engler family. My grandfather was called Feiwel Engler and my grandmother was Minna Engler, née Heier. I knew one of my grandmother's sisters. I think her name was Rachel. She lived in Chernivtsi and was already very old – older than my grandmother. I only ever saw her sitting; I saw her once or twice.
My grandparents owned an ice factory and ice houses in Chernivtsi. I was told that my grandfather was originally a tinsmith. After he was married and the eldest daughter, Fanny, had already been born, he went to New York. That was a trend back then: you'd go to America to make money! After one year my grandmother – she was a very beautiful woman – said, "he lives there, I live here," and she left her daughter, who was still very young, with her parents and followed him to America. Grandfather was a workhorse and also a bit stingy. Grandmother also worked a little in America. She could sew, but she also wanted to live and immediately founded a Bukoviner Club. But then Grandfather said, "I came to America to earn money, not to spend money." At some point Grandmother said to Grandfather, "Feiwel, when are you going to come home with me? I want to go home; I'm not going to have any more teeth by the time we get home. We have enough money and will be able to build something up with it." That's how they began. They built a house and the factory in Chernivtsi, and they slowly, slowly worked their way up. By the time I was born, my grandparents had a large estate with four houses, the ice factory and ice houses. When Grandfather died in 1929, Grandmother kept living in her house.
Natural ice was stored in the ice houses. They would cut it out of the Prut [river] in winter and sell it in summer. When they brought in the ice in winter, masons would work at it, since natural ice naturally wasn't straight. It was cut up and formed into blocks. They were then processed and stored so that there was no air between them. It kept better that way. In summer the workers would go into the ice house at four in the morning, brush off the ice blocks, and then sell them. In summer they would also produce ice chemically in the ice factory. Those were square ice blocks. I think I also saw ice blocks like that when I came to Vienna. There was a law that said that the butchers could only use the chemically produced ice to cool the meat. The natural ice lasted longer than these blocks, but for hygienic reasons the meat wasn't allowed to be kept with the natural ice. But the butchers often mixed the chemical ice with the natural ice. You took a little of this and a little of that.
My father worked in Grandfather's factory, but he also went out on his own with his own ice house. We also had stalls for our horses – there were between 20 to 30 horses. And we had some cows. Every day horse-drawn carts carried the ice to the customers – butchers, hotels, but even private buyers were fixed customers.
We had a lot of employees. Those were workers from the countryside, mainly Ruthenes. They worked for us for years. Ice wasn't needed in winter, so our horse-drawn carts transported alcohol from Bessarabia for the liquor factory in Chernivtsi – the factory was called Peres, or else that was the proprietor's name; I don't know anymore. In the fall and spring my father's horse carriages transported construction material for construction companies. The workers were busy all year. They had rooms above the stalls where they lived. On holidays, like Christmas, their families came to us to celebrate with them.
Fanny, my grandparents' eldest child, lived in Chernivtsi and married a Mr. Rippel. They had two sons, Schnoppi, whose real name I don't know, that's what he was called, and Louis. He did a goldsmith apprenticeship in Chernivtsi. Mr. Rippel traveled back and forth between Argentina and Chernivtsi. Then Louis also went to Argentina, to Buenos Aires, to his father, and Fanny followed them. But she came back to Chernivtsi – that was such a back-and-forth. Then there were bad times in Bukovina and she stayed in Argentina with Schnoopi and I never saw her again. In the early 1950s, when my parents were still alive, Louis visited Vienna with his wife. He also traveled often to Israel, but they're not alive anymore.
Berta was the next child. She married Leon Lutwak. They had a delicatessen on Tempelgasse in Chernivtsi. They were already importing specialties from abroad back then. It was a really terrific store! Sadly, the daughter, Sylvia, died at the age of 20 in Chernivtsi. She was ill, I believe with leukemia. Berta and Leon were deported to Transnistria in 1941. They survived the Holocaust and returned to Chernivtsi. When the Russians came back to Chernivtsi the second time, they fled to Bucharest. I saw them again there. They then went to the eldest sister, Fanny, in Argentina and stayed there. Both passed away there.
The next sister was Jetti. She was married to Moses Horowitz. Moses Horowitz wasn't from Bukovina but from Romania. But they lived in Chernivtsi. They had a son, Otto. Otto was at a naval academy in Italy before the Second World War. When Mussolini began flirting with Hitler, Otto went to Bucharest. He worked as something in a large factory in Bucharest and became engaged to the daughter of the factory owner. They wanted to marry, but in 1940 the Russians came to Chernivtsi [Soviet troops occupied Chernivtsi from June 1940 to summer 1941]. Otto pleaded with his parents to come to Bucharest, but his father said he wanted to liquidate and sell everything first. Otto then went to Chernivtsi to get his mother. At the beginning, when the Russians came, you could still travel here and there a bit. But by the time he wanted to travel with his mother back to Bucharest, the Russians had already blocked everything. They couldn't get out. Otto paid a border guard a lot of money to let him over the border, but he brought him directly to the NKVD [4]. They were arrested and sent to Siberia. My aunt survived, but Otto died there. It's horrible. After the war, Aunt Jetti found her husband, Moses, again. They both then fled to the sisters in Argentina.
Netti, the next sister, was married to Mr. Kraft. I only knew them from stories, since they went to Argentina in 1927 or 1928. My mother told me that they wanted to adopt me and take me with them, since they couldn't have any children. But who gives away a child? I never saw them, since I was never in Argentina. They've of course been dead a long time now.
Salo Engler, my father's brother, was married to Paula Hoch. They had a daughter, Miriam, who now lives in Israel. Salo died very young, I think in 1933. I was still a child back then. He met Paula in Chernivtsi. Salo worked in the ice factory. Three brothers, Salo, Pinkas and Isidor, and Grandmother were the owners of the ice factory. My father opened an ice house and transport business separately. When Salo died, his daughter was three or four years old. He had leukemia, unfortunately. They also went to Vienna because of the leukemia, but that didn't help. Aunt Paula and Miriam were also deported to Transnistria in 1941. They survived and came back to Chenivtsi in 1944; they went to Palestine when the Russians came.
The youngest brother was Isidor. Isidor was also one of the owners of Grandfather's factory.  He was deported to Transnistria in 1941. He was married late – after the war – to Mania Kuppermann. They had no children. When the Russians came back to Chernivtsi, they fled with my grandmother to Jassy in Romania. I think my uncle and his wife fled Jassy for Vienna in 1958 and wanted to immigrate to Israel. But Mania didn't want to live in Israel. She had a wealthy brother in New York and wanted to go to him. They lived in Vienna for a while, then left for New York. I don't know what Isidor did in America. He probably worked somewhere. They've both been dead for a long time.
Growing up
My parents were married in 1922 in Chernivtsi, and my brother was born in 1923. My brother's German name is Theobald; in Yiddish he's called Tuvie after my mother's father who died of the Spanish flu in 1918. Theobald is a very German name; my mother was very consciously Austrian and loved everything German, like the literature. When I was a child my mother would cry sometimes. I would say, "Mama, what's wrong? What happened?" Then she'd say, "today is the anniversary of Emperor Franz Josef's death." "You're mourning that?" I would ask. And she would say, "you wouldn't understand. He was like our father." And my mother wasn't a primitive woman! There were many books by Schiller, Goethe, and many other German-speaking authors. My parents also had many newspaper subscriptions – those were Romanian papers. Whenever a newspaper arrived she would take it and go into her room – you weren't allowed to disturb her. My mother was very well-read.
We called my brother Theo and not Theobald. When he was born, my parents had an apartment on Russian Street, Russische Gasse. I was born in Chernivtsi in 1926 on Morgenbesser Gasse – that's the German name of the street we lived on. My Yiddish name is Surah, meaning Sarah. I grew up in a house with a large yard. That's where the ice house was. Even the transport fleet had room there; it was a very large yard.
I went to a nursery school when I was little. When I came home from school there would be lunch and then I'd play on the street or in our yard. The yard was always full of children. In the summer my father would empty a cart of sand into the yard for us, and we would play in the sand like at the beach. I went to elementary school with a lot of other Jewish children. I had a classmate whose name was also Sylvia Engler, but we weren't related. We were Sylvia Engler number 1 and Sylvia Engler number 2.
We always spoke to our parents, uncles and aunts in the third person: "If Mama allows it; if Papa wants…" and so on. That's just how you spoke back then. That's how we were raised and we didn't know of any exceptions. There was no familiar "you." I was still talking like that when we were living in Bucharest after the war and I was already engaged. My Aunt Berta was also living in Bucharest at the time. She was modern and said to me, "tell me, isn't it time you speak properly to your parents?" I had no idea what she meant! "What does Auntie mean?" I asked her. She said to me, "don't say, 'what does Auntie mean,' rather, what do you mean, Berta?" I was so used to speaking like that with my parents, aunts and uncles; it was ingrained. But my parents weren't strict; that didn't have anything to do with it. We had a perfectly warm and loving relationship to each other.
My mother thought highly of helping poor people. Poor Jews came to us every day, sometimes even Christians and gypsies, and she would give something to everyone. She would even help those who didn't ask for anything, but who she knew weren't doing well. She always had an "open pocket."
My family was religious. My father put on tefillin [5] as did my brother for a while after his bar mitzvah [6]. We celebrated Passover and held the Seder [7] in a very traditional way. We lived strictly kosher, and if the maid ever used a knife for dairy products that was meant for meat, then the knife would be taken out immediately and stuck in the dirt for three days. My father didn't always go out with a kippah [head covering]. But of course for the holidays he would wear one. We also observed Shabbat [8]; that's when the Kiddush would be recited [9]. Sometimes we also went to relatives' houses for the holidays, but usually they came to us, since there were so many workers at our house and my mother preferred to stay home. They worked on Saturday despite the Sabbath. What were you supposed to do? That would have been a huge financial loss. The children always got new clothes for the High Holidays [10], and the celebrations were very traditional. There were around 15 shuls [Yiddish for synagogue] in our area; that was a lot. There was even a small shul near us where we had reserved seats, but we wouldn't go there on the holidays. There was a dayan [rabbinical judge] there, but no rebbe [Yiddish for rabbi]. Tombey Hall was rented for the holidays. It was very big and many people would go there. We didn't live in the Jewish quarter, but my grandmother didn't live far from there. Of course you'd see kaftans [traditional clothing] and peyes [11] there, for the Shabbos as well. That was all on Jüdische Gasse – Jewish Street – which is what it was called. Twenty families lived in my grandmother's four houses – all of them were Jewish. She only rented to Jews. There were also ground-floor apartments that were cheaper. Religious people with six, seven, or even eight children were living there. I saw it. The men always wore a hat and also peyes. But they didn't wear white socks; those were poor people. People supported them! But the chief rabbi from the Great Synagogue, Mark, was a modern rabbi. He had the same fate as my brother.
Twice a week a melamed [12] would come to my brother and me at home and teach us religion and how to read Hebrew. Not how to write it. The melamed would come to my brother and me separately. I didn't want to sit next to him because he reeked of garlic. I always said, "he has to sit there, and I'm sitting here! He stinks, Mama, he stinks. I can't sit next to him!" But we learned. Before his thirteenth birthday my brother prepared for his bar mitzvah with the melamed. He was thirteen, I was ten. I know that the bar mitzvah was in a shul, but I don't remember which one. We had a very nice party with the whole family. My family was very large. When everyone got together – from my mother's and father's sides – it was a lot of people. There were fourteen grandchildren on my mother's side alone. And then there all were my parents' aunts, uncles, and cousins! It was very nice, of course.
My mother also worked. The children would help out in winter – the whole week. When the ice was there we would also work on Saturday and Sunday. You didn't know when the ice would melt; it could have happened overnight. There were warm currents and then it'd be over. You never knew how long the winter would last, and my father wanted to store as much ice as possible in the ice houses. There was always the pressure that it could get warmer and that the ice would melt in the river. Our horses brought the ice from the Prut on wagons and my father would also hire others with carts to carry ice. They would get a receipt for each load, and when my brother and I came home from school, my mother would be standing outside in a fur hat – it was terribly cold – handing out receipts. Then we'd throw our school bags in the house and also stand there handing out these receipts. My father would pay at the end of the week. Some of the workers thought they could cheat us children. When they arrived they got a receipt, and afterwards they would come again and want another receipt. But we were instructed: unload first, then hand out the receipts.
In summer, our private customers – those who had an icebox – knew when the ice would come. They would come downstairs, get the ice and carry it upstairs. They paid monthly. My father would only bill the hotels, butchers, inns, etc. My brother and I would ask the private customers to pay, since my father wasn't able to walk upstairs to private customers' apartments. When we came by, some of the customers wouldn't want to pay and tried to get rid of us so that we'd come back another time: "come tomorrow, come the day after tomorrow!" I would then say, "you have already received the ice, do you want my father to yell at me for not bringing the money?" That's how I'd get the payments; I was ten or twelve years old. I had a pad of paper that said who I had collected from and the customer would sign it.
We visited my grandmother from time to time during the winter. But in winter we'd usually go ice skating. There was an ice-skating rink at the corner of Dr. Reis Street and Dr. Roth Street. The house by the rink belonged to a cousin of my mother, Isidor Retter. You had to pay to use the ice rink. We couldn't skate on the Prut since it was too dangerous. People did it anyway, and many also drowned there. There were no ice skates back then; we tied blades to our shoes.
My brother played soccer with the Maccabis since he was ten. The soccer team would even travel to Bucharest and play against Maccabi Bucharest – Maccabi Czernowitz against Maccabi Bucharest. We also had the Hashomer Hatzair [13], but they said that those were the leftists, the communists.
I went to the Romanian elementary school for the first two grades, then for the next two to a private elementary school where there was a Jewish principal – the school belonged to him. He was called Meisler and the school was the Meisler School. All the teachers were Jews. A cousin of my mother was even a teacher there. He was called Benno Retter and also died in Transnistria. "Uncle Benno" we'd always say to him, me and Friedrich Daver, my cousin. We were the same age and in the same grade. The son of one my mother's cousins, Nuti Feuerstein, was also in the same grade. On the first day Uncle Benno said to us that we weren't to call him Uncle Benno. "I'm not your Uncle Benno here, here I am the teacher Benno Retter. We don't know each other!" When I came home from school I said to my mother, "you know, Uncle Benno was so mean!" At the first elementary school – a public school – most of the teachers were also Jewish. Nuti Feuerstein's mother was a teacher. It was the same story with her. I couldn't make any sense of it.
We spoke German at home, but I could also speak Romanian and Ukrainian, since we always spoke to the workers at home in either Romanian or Ukrainian. My parents also spoke Romanian, but terrible Romanian, and we would laugh at them.  My Romanian was good. We lived in an exclusive neighborhood, but there were three barracks nearby. There were many officers with children living there, and the children spoke Romanian. We played a lot with the children. We spoke Ukrainian with the workers, but that was actually more Ruthenian.
In summer we would swim in the Prut. There was a beach there and we would go with my parents in a horse-drawn carriage with rubber wheels to go swimming. My mother brought food and little table, and we would have a picnic there – sometimes with friends or family. My mother told me that I loved babies. I disappeared at the Prut once. That was a terrible upset! They were already looking for me in the water; even my brother was running around looking for me. I was maybe three years old at the time; my brother was six. He thought to look for me where the strollers were. Suddenly he saw a stroller and ran over – I was lying next to it in the grass, asleep. I was tired and just fell asleep.
One time I went with my mother, brother, my Aunt Paula and her daughter, Miriam – who lives in Israel now – on vacation to the Black Sea for two weeks. I was eight years old. We stayed in a hotel and swam in the sea. My father never went on vacation since he could never leave because of work. No one had the time back then; you couldn't leave the business. It just wasn't done!  There were so many workers living with us and the horses needed to be attended to. My father always bought the grain for the horses, the oats, from the wholesaler in two to three very large carts. We had ten huge storehouses. There was one time when he didn't have the time to get the oats and there was very little there. Not far from us was a grain merchant – Sonntag was his name. He was also a Jew. My father sent a worker and me to Mr. Sonntag. I was supposed to mind the scale. I was maybe six years old at the time. "Papa, I don't know how to," I said. "I know," my father said, "you don't have to do anything. Just look to make sure Mr. Sonntag doesn't have his foot on the scale and that the pointers match. That's all you have to do." And because Papa said that I was supposed to look, I looked to make sure Mr. Sonntag didn't have his foot on the scale. When I was a bit older, maybe twelve, whenever I came by to buy horse feed from him, Mr. Sonntag would always say, "now, will you come check to make sure I've set the scales up properly?" He liked me a lot, Mr. Sonntag. What memories…
When I was older I went to the cinema in Chernivtsi. My parents never went to the movies; they didn't have time. There were several cinemas: the Roxi; the Capitol; the Savoy, and so on. Chernivtsi had its own Yiddish theater and Yiddish theater groups came to Chernivtsi. Sometimes we went with our parents to the Yiddish theater. I remember that the wonderful Sidi Tal and Adolf Teffner played there.
After elementary school I went to an academic high school. It was a private Romanian girls' high school with public status. The proprietor was Professor Hofmann, who was also a Jew. The school belonged to him. The state appointed a principal. There were 54 girls in my class, 51 of whom were Jewish. Those were big classes! There were many applicants to the schools, and because you had to pay tuition they filled the classes with as many as they could. We had three small benches, but it didn't feel like there were too many of us in the class. Everything worked. Most of the teachers were Jews. My brother also went to such a high school, but for boys. Girls and boys were separated back then.
In 1938 a Romanian regime came into power. I was in high school at the time, but the school was a private school and all the private schools were disbanded by the Russians. Two Jewish schools were opened and then I went to a Russian-Jewish school. All the subjects were taught in Yiddish at the Jewish school. We had Yiddish books; everything was in Yiddish. But there were also Romanian schools – they were called Moldavian schools. My brother went to a Moldavian school, and I went to a Jewish school because it wasn't so far from our house. My parents didn't want me to have to go far. The Russians took everything away – the factory, the ice houses – everything. Everything was nationalized. But my father was very industrious. He held on to his horses and wagons and worked for the beer brewery. He transported beer. He took along someone to help him and he paid taxes. Officially he worked alone. He could at least be independent that way. He also came to an arrangement with the natshalnik, the director of a factory. That was a Russian he slipped money to so he would get the better beer to transport, and get it on time. My father made deals and then began to transport champagne to Siberia for rich people. One day one of them said to my father, "you're on the list for Siberia." My father came home immediately and we left. It was like this with the Russians: if you weren't there, they couldn't find you at the time they were supposed to find you, and then it would be forgotten and settled. So we left and hid out at Aunt Jetti's. Her husband was employed by someone else and didn't own anything. They lived in a rental apartment. We were there for a few days, then we returned home. After a month my father again heard that they wanted to deport him to Siberia, so we left again.
During the war
A year later, the Germans came to Romania. That was early July 1941. Thus began a bitter period. The ghetto was only put up in autumn. By chance, my father's factory was there, and my grandmother lived there. That's where we stayed. We lived with 30 family members in a three-room apartment. That was with my mother's siblings and their families.
My brother was no longer alive at this time. When the Germans came, they had the say and the Romanians just followed along. The streets were blocked off and the Jews had to leave for work, including my father and brother. I can still see him standing on the street. The whole street was full of people, even Chief Rabbi Mark was there. They were taken to the Palace of Culture on Fischplatz. Jews weren't allowed to go out during the day or in the evening. Only from 10am to 1pm in order to buy things. But otherwise they weren't allowed out on the streets. They began to sort people at the Palace of Culture. Some were sent to the right, others to the left. A German captain was in charge. They said these were workgroups. My father went to my brother, but the officer noticed and sent him back. "You'll stay where you are," he said to my father. A shooting began on the street and my father, his brother and some acquaintances were able to sneak from house to house. He went to my aunt's place. He didn't come home and spent the night there. Only then we learned that he was there. My brother was taken with another group over the Prut where they were all shot. The group was seen the morning of July 9. There were hundreds of Jews. At first they said they were being taken to work. Outside of the city, at a shooting range in Jucica, the Germans shot the whole group. Some farmers came by and said, "give us a photograph and money. Your family members aren't doing well. We'll give it to them." My mother gave a farmer a lot of money for my brother, but later we learned that all of them had already been shot on July 9. My brother as well. But we only found out eight months later. Five days later – on July 14 – my sister was born.
My father remained in hiding. My mother was having contractions and I, at 15, had to look after the whole family. How did they make the choice? Who went to one side and who to the other? Why was my father here and my brother there? They deceived them; they said they were going to work. That's why my father wanted to be with my brother. My brother was just 18 years old.
So I was the provider now, but you weren't allowed out on the street. Luckily my aunt's younger son was blond with blue eyes. He put on boots and looked just like an SS officer. Somewhere he found a little cart, put my mother in this cart, and we went to the so-called Jewish hospital. She gave birth there.  There, gravely ill people were standing on the street. They had thrown the Jews out of all the hospitals and they were all there. Then I went home alone. There was nothing to eat in the hospital, nothing!
The Russians had confiscated our ice houses. We went to live with my grandmother, since we had to move out of our house. The Russians stored food in the ice houses. Chernivtsi was under Romanian authority and the Romanians weren't as bad as the Germans. My Aunt Mania and I went to the Romanian captain; we spoke with him in Romanian and said that we were starving, since we had nothing more to eat. Our entire house is filled with Jews, my mother is in the hospital, and the people in the hospital don't even have anything to eat. We know that the Russians left food behind. The Romanian was very nice and said that we should come at 6am. He would send away the guard standing outside the ice houses and we'd have half an hour to take whatever we could carry. We went with bowls and everyone in the house got something, and I packed some provisions for the hospital. The nurses couldn't have anticipated I was coming. But I wasn't allowed on the street at this time. I braided my hair, dressed up like a country girl, and went barefoot. That's how I became the breadwinner. When my sister was born there was nothing, not even diapers. I don't need to describe what kind of state my mother was in. We tore up bed linens and used them as diapers.
In Yiddish my sister is actually called Rivka, after our grandmother. Here in Vienna she's called Renée. She was born on 14 July 1941, five days after my brother was murdered by the Germans.
My father received authorization to work a little. But then the Romanians deported us to Transnistria. The Jews of Chernivtsi had to gather on Maccabi Square and were deported on trains to Transnistria. People only took what they could carry: a suitcase; a backpack. We arrived in Bershad. We were the only ones from our family in Bershad – everyone else was in Mogilev. In Bershad we lived very cramped in small houses, but we didn't have the whole house, just a room. It was miserable. We had to work to keep from starving to death. It was a horrible time. Every day you thought you would be killed. You worked wherever they sent you. I worked in a military kitchen for the Romanian military. We peeled potatoes, swept and carried out the garbage, did the laundry – that's what we were needed for. But no one paid us anything, we just got a little bit of the food. My sister was still very small and nursing, so she had something to eat and could survive. Luckily she can't remember anything. We could move around town freely, but we weren't allowed to leave. There were Romanian guards. At first you still had things to trade, and we gathered wood for winter in the forest. We sold everything we brought to the local farmers. But a lot of people died of hunger; most didn't return. Three of my uncles died there; along with cousins of my father. Whole families stayed there. When I think about it today, I ask myself how I managed it all. I don't know. I was lucky that my parents also survived.
In early 1944 the Russians liberated us and we were able to return to Chernivtsi. Then the Russians wanted to take us into the military, my father and me. We weaseled ourselves out of it, bribed a Russian and fled to Dorohoi. Dorohoi is a small city in Romania, across from Bukovina. Four of us fled with a Russian cart. We also brought my cousin, Tuvie, who lives in Israel today. He got my brother's papers. We said that he was my brother. You needed some kind of papers when you arrived. We changed the names a little when we got to Romania. We lived in Dorohoi from May 1944 to September 1944. I contracted abdominal typhus there, but that's just a triviality. We were afraid of the Russians; after all we had fled with false papers. That's how we kept moving behind the front. Our aim was Bucharest. My father organized it. We were twelve families with carts and horses. Two, three families would buy one or two horses and a cart together, load in their meagre belongings and drive off. But Bucharest wasn't liberated yet.  So we travelled behind the front. Dead horses lay everywhere, and I know that the Russians wanted to take away our horses. But we didn't want to give them up, of course. When we arrived in Bacau, a small city near Bucharest, we could barely keep going.
After the war
We couldn't keep going; we had already traveled so many days and nights with the horses. My father went to the train station in Bacau. The trains were already running between Bacau and Bucharest again. But they weren't passenger trains. He went to the stationmaster and asked him to provide us with a cattle car. The stationmaster said he couldn't do it because he had to register everything. My father said, "then you won't register this car!" He gave him a neat sum. We still had some jewelry. We sold it and he provided us with a train car for the money. He didn't register the car and said it was our business in Bucharest, that he didn't know anything about us.
We brought a cart and a couple of horses. There were carts, horses, and a lot of people in the train car. We sold the other horses and carts before the journey to Bucharest. My father was used to horses and thought that he might still be able to use the horses in Bucharest. "I don't know what I'm going to do, so why should I sell them? I'll bring them along," my father said. He got them onto the train with great difficulty. But there was a ramp, which we used to get the carts on. We even in the cart with the others for a night. We had hay and lay down on it. At the train station outside of Bucharest the stationmaster came and said that we had to get out. My father said that he wouldn't, he was going to Bucharest. The stationmaster then said to him that he couldn't get out there. But the Romanians had somewhat of a guilty conscience about the Jews. We said we just came from a camp. They participated in the death of many Jews, since they were allies of the Germans. So we were able to go on.
We arrived to the main train station in Bucharest and the stationmaster saw that our car wasn't registered. He asked us where we got on. My father said, "I don't know, we're coming from the camp. We were at some train station; I don't know where that was. The train car was empty and we just got on." "But you can't get out here," the stationmaster said. "Yes, we can," said my father. My father and cousin used the car's side boards to get the horses and cart down and onto the platform. I can still see the stationmaster standing before me, and I can still hear him saying, "I've never seen anything like it before in my life – horses and carts at a train station in Bucharest." That's how we got through.
When the Romanians occupied Chernivtsi, a Romanian named Ion Radulescu took over the brewery where my father had been working for the Russians. They became fast friends. Even though Romanians weren't allowed to visit Jews at this time, he often came over and even helped us. My father said, "let's go to a public telephone booth and look in the phonebook for the engineer Ion Radulescu, see if his address is in there." I looked and found the name. Because my Romanian was significantly better than my father's, I called and said who I was. "Sylvia, it's you, where are you?" I said I was in Bucharest. "Why, since when, with whom, is your Papa also there?" I said that Papa and Mama were there, and that my little sister was also there. He already knew that my brother had been shot. That had happened before. He said that we should all come to him straightaway. He said that he had a beautiful villa behind the royal palace. But the others, who were on the train with us, were still with us. I said that we weren't alone, and he said that all of us should come. We arrived to a beautiful villa, but there was no real entry, just a small gate. Back then it was the case that if we had left our horses out on the street, the Russians would have taken them immediately. And that was not alright! He said that we should take down the fence and ride in with the horses and the cart. Bucharest had been bombed by the Allies, and his wife and children had fled to the countryside. He needed to stay in Bucharest for work. We lived with him for one to two months.
During this time my father began working. We found an apartment – interestingly with a Jewish family whose house had been returned to them. We lived on the second floor from the fall of 1944 to 1947.
In the early 1960s Ion Radulescu called my father to say, "I'd very much like to see Vienna." My father replied, "come, our doors and gates are open to you." And he really came. But he had to come alone because the Communist government in Romania didn't let the family out. But he was so happy to be with us and see Vienna. It was my father's way of returning the favor after he helped us out before. My father also bought a car at the Dorotheum in his name and gave it to him. "That can't be!" the engineer said. And then my father said – he spoke very bad Romanian – "For you, anything!" Ion Radulescu was so proud; he drove the car from Vienna to Bucharest. He was in Vienna one other time. He told the officials in Romania that he was going to Vienna due to illness. He didn't mention us, otherwise they wouldn't have let him go. He was really a unique man! Then contact stopped. My mother died in 1961 and my father in 1963. That's life!
My father already went to Austria in 1945. At first he always traveled back and forth – from Vienna to Bucharest and from Bucharest to Vienna. And in August 1947 my mother went to Vienna with my sister illegally, though still in a sleeper car.
I married Leon Segenreich in Bucharest in 1946. Leon was born in 1913 in Botosani, Romania as one of nine children. He had studied law in Chernivtsi. His cousin Salo Segenreich from Chernivtsi had married my cousin Lola Fenster in Transnistria. That's how we met in Bucharest, Lola introduced me to Leon. There were Segenreichs in Chernivtsi, Segenreichts in Botosani, and Segenreichs in Bucharest. It's all one family. My husband's mother was named Adele; Ada they called her. My daughter is named after her. Her father was a rabbi. She was very devout and wore a sheitel [14] at her wedding. My mother-in-law gave birth to twelve children, nine of which lived. She died in 1938. My father-in-law, Ben Segenreich, was not so devout. My son is named after him. My father-in-law's family came from Poland. He came to Botosani as a young man, exported eggs and was always riding around selling eggs. I even have a picture of him where he wrote to his wife on the back that he had sold so-and-so many carts of eggs. Besides the egg export business, he also produced paper bags and sacks. My father-in-law survived the war in Botosani. He died ten years after our wedding. He would have liked to have come, but he was already very ill, and you couldn't have taken the train so shortly after the war. Someone would have had to bring him to our wedding.
We celebrated our wedding in the morning and afternoon, since we were afraid of the Russians. No one would have dared go outside in the evening. The Russians attacked the people and took everything from them.
My husband couldn't finish his studies, since he served for a year with the Romanian military after his high school exams – graduates only needed to serve for a year – and during his studies, the Germans came. After the war in Bucharest he opened a paper wholesale with his older brother of around ten years, Saul, and the youngest brother, Yeichel. They had ties to the paper industry from their father. Saul also studied law in Chernivtsi, like my husband. He was a trained lawyer. But back then they didn't let Jews into the bar association in Bucharest and he never worked as a lawyer. He survived the war in Transnistria like us. He immigrated to Israel at the end of the 1940s.
My father urged my husband and me to come to Vienna. He brought us to Vienna with falsified Russian papers. But my husband couldn't speak Russian. I could speak a little Russian. We arrived to Vienna in September or October 1947. My father immediately got Austrian citizenship in Vienna, because he was an old Hapsburg Austrian. We had to wait five years before becoming Austrian citizens. When we got to Vienna, the Russians were still there. And we had fled Chernivtsi because of them! But they left Austria in 1955 after the Independence Treaty [15]. My father was renting a small apartment with an outside bathroom on Pramergasse. The man who owned the apartment lived in the smaller of the two rooms. He didn't have anything he could live off of, so he rented out the other room. He said that he didn't need the kitchen either, just the small room. When we got to Vienna we didn't know where we could live. Sure, you could have lived in the Rotschild hospital, but my father didn't want that. So five of us shared the one room: my husband, my father, my mother, my little sister, Renée, and me. Renée was only three years old then. She had gone to pre-school in Bucharest and spoke Romanian there. At home she spoke German. But she could speak Romanian better. She went to the first grade in Vienna. She still understands Romanian, but she can't speak it anymore. After elementary school, Renée went to the Lycée for four years [Ecole française de Vienne; French school of Vienna]. She transferred from the French school to the trade academy, and after that she finished at the Hetzendorf fashion school. She was always very creative and could apply her creativity at the jewelry store she ran with her husband, Claude Sillam. She is very multi-talented and paints superbly. Her daughter, Helene, is a doctor and has four children. Renée's son inherited her creative talents. He's now running the jewelry store.
My parents regularly went to temple in Vienna, but they weren't kosher anymore. There was no pork, of course, but the dishes were no longer separate. My husband went to the city temple on Seitenstettengasse nearly every Friday evening and Saturday. He came from a very religious house; his grandfather had been a chief rabbi. My husband told me that this chief rabbi had gone with his wife to Palestine in order to die. He really did die and was buried there. My husband knew from his mother approximately where the grave was. And the first time he went to Israel, a street had been built on the Jordanian side and no one knew exactly where the cemetery had been.
When my husband went to temple on Friday evenings; I never came along because I would be preparing dinner.  Sometimes we had guests, of course. We had our reserved seats at the temple for the High Holidays for as long as my husband was alive.
My husband and father opened up a rubber sole factory in the 15th district. The factory was on Flachgasse. When my father died of a heart attack in the early 1960s, my husband ran the factory on his own. My parents both died of heart attacks. We had the factory until 1970/71, when our kids were almost out of the house. We would have had to invest a lot and buy new, modern machines. My husband said that it was nonsense and that we should just start something new. They were building municipal housing to the left and right of us, and we were caught in the middle. The city issued us a construction ban and we had to sell – out of necessity! So we bought a small shop on Rudolfsplatz, in the 1st district, from the compensation. We wanted to have something where we could work alone – no employees, no workers. My husband was almost 60 and I was thirteen years younger. He was almost 60 but was doing well and he always looked youthful. So then we had a small fabric store. My husband died in 1988 and ran the shop until 1996.
My daughter, Ada, was born in 1949. Her name is actually Adele, but we call her Ada. I gained over 30 kilos [66 lbs] while I was pregnant with my daughter. Utter madness! I looked horrible. I didn't want to eat that much, but my mother always said, "eat! You're eating for two now!" I was young and stupid back then. Oh well! That's just how it is. Luckily I was able to lose it all again.
Ada and my son, Ben, also went to the Lycée like my sister, Renée – from pre-school to graduation. Ada got married soon after graduating. She has three children – Katja, David, and Jonathan – and four grandchildren – Joshua, Ethan, Elijah, and Nathaniel. Her husband, Claude Tuchband, has an insurance company in Paris. The company building is large, and there are a lot of offices and employees. The older son, David, studied law and also works for the insurance company. Jonathan studied economics. Ada worked for many years at a costume jewelry company where they produced costume jewelry for export to Japan, and she was often in Japan. That was her hobby, but now she's only doing work for charity. She works for Jewish organizations.
My son, Ben, was born in 1952. He was an active participant in Jewish life in Vienna. He was a co-founder of the Maccabi in Vienna and played soccer with the Maccabis for many years. Every Sunday my husband and I went with a Jewish couple – she was from Vienna and he was Belgian – to the soccer field. They were both a bit older. The Maccabi fans and the fans of the other team always sat separately. Whenever Maccabi would score a goal, it would always get openly anti-Semitic. One time the fans from the other team came over to us and punched the woman. I was standing next to her and returned the blow. The woman was somewhat hurt; my husband saw and also came over. And then a fight broke out. Fair enough – during the game my son accidently knocked out two of his opponent's teeth on the field. Since I've been here, I've only ever experienced open anti-Semitism on the soccer field. My children used to also bring non-Jewish friends home. To be honest, that didn't matter so much to me; they were friends, no matter what they were. People are people. They were good kids. Not anti-Semites. But secretly I always hoped, even if I never said anything, that they would marry Jews. And that's what ended up happening, thank God!
I can remember Ben's bar mitzvah well. After the celebration in the temple, it was customary back then to go to the Jewish restaurant – the owner's name was Vorhand – and keep celebrating with friends and relatives. The restaurant was in a basement on Weihburggasse in the 1st district. Vorhand also had a Jewish bakery on Hollandstrasse in the 2nd district. He was his own mashgiach, meaning he made sure on his own that the food is "clean" according to Jewish law. One evening I said to my husband, "I don't want to have the party on Weihburggasse. The food is not good and the service is even worse. Half are still eating the appetizers while the other half are already on dessert. I want a nice bar mitzvah." What came to mind? The InterContinental Hotel on Johannesgasse had just opened. I wanted to have a look around there. My husband was cross and said that price would be crazy and food wouldn't be kosher. But none of our friends were kosher, and the rabbi would eat something vegetarian anyways and drink wine. I called the hotel and went over. There was a very friendly young director who immediately gave me recommendations for the buffet. "Wait a minute," I said, "none of that will work; we're Jews." He went and got the chef. The chef had worked for years in America in a Jewish restaurant. What a coincidence! The chef and I talked about gefillte fish and many other dishes. He said he knew how to make Jewish dishes. But the price! That was very important, since we were planning for over a hundred guests. My husband could speak well, he had studied to be a lawyer, after all. So my husband said to the director, "look, if you give us a decent price, we can promise you that, after our party, there will be many more Jewish parties here." And that proved to be true. There were many more bar mitzvahs and Jewish weddings there, since word got around about how good the food and service were. A few days before the party the chef called and asked me to come over to show him exactly how I wanted the food. I said to him, "you know what? You come over here. I know my way around my own kitchen." And I showed him everything. And one day before the party he called me in the morning to say I should come by to have a taste, to see if he was able to make it as I wanted. All the guests said, "who cooked this? It's wonderful!" I did it all for Benni, since I only have the one son and I wanted him to have a nice bar mitzvah. We only had a small party for my daughter, Ada. It wasn't that common for girls. Of course I would have done the same for her.
Both my kids were model students at the Lycée. I didn't have anything to do with it. But of course I was proud, I just didn't show it like that. My son, once he began reading and writing, immediately started writing poems. If I told him to write something he would do it straightaway. But when my husband asked him what he wanted to study, he didn't know. Many of his friends studied medicine. So my husband told him to study medicine. But he said to him, "I can't watch people suffer, I just can't do it." "Then do what you want," my husband said to him, and so my son studied physics. He studied in Paris for two years. I rented him a small apartment in the same building my daughter was living in. That way he could be the babysitter for my daughter's first daughter. After his studies he worked six years for Siemens in Vienna. Then he decided to immigrate to Israel and quit his job at Siemens. He was around 30 years old at the time. He went to Israel and worked for the Tadiran electronics company for a few years. During that time, he was also writing for German, Swiss, and Viennese newspapers. I don't know who talked about him at ORF [Austrian Broadcasting Corporation], but he received an invitation to come to Vienna. He had an interview with ORF and they hired him as their Israel correspondent. At the beginning he only worked in radio, but then he worked in television and for the Standard. Now he's been living for a long time in Israel with his wife, Daniela, and their daughters, Timma and Noa, who were born in Israel.
I no longer have a seat at the temple because I spend holidays either with my son in Israel or my daughter in Paris. Thank God I have a good relationship with my children. For Passover [16] I am with my son in Israel. And for Rosh Hashanah [17] and Yom Kippur [18] I'm with my daughter in Paris. It's been like that for years, for as long as I've been alone. My son is in Austria for all of August. He's not in Vienna the whole time; they travel around a bit with the children. And my daughter also comes as often as she can. She calls me every day since I've been alone.
She lives traditionally, and my son in some way or another, being in Israel. Even today when I go to Paris I bring gefillte fish and other Jewish dishes. I prepare the food at home and cook it there. I also bring prepared food with me to Israel. In Paris I always fried up some eggplant, but I can't do that at my daughter's any more, since she has an electric stove now. So I fry the eggplant at home, freeze it, and bring it with me. My son has also had an electric stove for two years, so I can't do it there anymore either. Now I have to bring the eggplants with me.
Katja, my daughter's eldest daughter, is especially devout. She lives with her husband and children in London, is kosher, and the dishes are separate. He husband is very religious, but he doesn't have peyes. As a child, his father came with his parents to England from Russia. He is also religious, but no peyes. I don't know where his mother is from.
Vienna has actually become a home for me; I've been living here since 1947. I have almost only Jewish friends. Sadly, many of my friends and acquaintances have died. When we were younger we went out a lot. You couldn't do that during the war. Every Saturday evening my husband and I went to the theater with friends. The Theater in der Josefstadt, the Burgtheater, and the Operettentheater. Every Saturday! And afterwards we'd go to a bar and dance. We were young and had to make up for lost time. I had had a wonderful childhood, but my youth was catastrophic. Oh well, that's life.
I meet with my girlfriends nearly every Saturday. We sit in the Landmann or Lehmann coffeehouse and chat, or I sometimes invite them over. We also go to the Heuriger, the wine taverns, but not often. I also see my sister.
My son wants me to come and live in Israel so I can be closer to him. But as long as I can still do everything on my own, I'll stay in my apartment, where I've been for so many decades. I wish to only live for as long as I'm still fit. We'll see! I can imagine living in Israel. I learned to read Hebrew as a child. I don't understand everything, but a lot, and in Israel I can get by with Romanian, German, Yiddish, Russian, and Ukrainian. Whenever I go to the supermarket in Israel I ask, "who speaks Romanian, who speaks Russian, who speaks…" And if I want to know something, then I just go to someone and ask. My husband and I always traveled to Israel, back when the children were still very young. Almost the entire family was living there, since my husband's siblings went to Israel after the war. But now almost none of them are living there, just the children and grandchildren.
Of course, I worry about my family in Israel. But will worrying help me? Someone once said to my son, "you could also live very nicely here in Vienna." But he answered, "my home is Israel." I had never intended to leave Austria. I'm self-sufficient here and I'm at home. There was always anti-Semitism in Austria; it is there and will always be there. I've been living in this house for over 50 years now. The people who used to live here aren't there anymore. But their children are. They are nice and we always greet each other.
I've been hoping for peace in Israel for so many decades now. What can you do? We can talk about it, but there's nothing we can do about it.
Six years ago when I was in Chernivtsi, I saw everything again – our houses, and our factory and the ice houses. It looked horrible. The houses looked terrible. I have the documents for all the assets, and I went to see a lawyer there. He asked me why I still have all that. I told him that my parents held on to the documents. I thought he'd have an idea about what I could do with it. He said I should keep the things for my grandchildren or great-grandchildren, so that they might have some of it someday. What can be done? That's life!
Glossary
[1] Bukovina: a historical region in Eastern Europe. The northern half is part of Ukraine and located in the Chernivtsi Oblast. The southern half is part of Romania and within the counties of Suceava and Botosani. Bukovina, along with Bessarabia to the east, is part of the historical region of Moldavia.
[2] Transnistria: a part of Moldova east of the Dnestr river. It is inhabited by Russians, Moldovans, and Ukrainians. From 1941 to 1944 the region was annexed to Romania, which had joined the war against the Soviet Union. Many Romanian and Ukrainian Jews were deported there, where many were killed. Survivors returned to Romania in 1945.
[3] Theresienstadt Ghetto [Terezin]: a military base founded at the end of the 18th century in what is today the Czech Republic. During the Nazi period, it was turned into a ghetto. 140,000 Jews were interned there, most of them from the Protectorate of Bohemia and Moravia, but also from Central and Western Europe. Only around 19,000 of the people interned in Theresienstadt survived.
[4] NKVD [abbreviation for Narodny Komissariat Vnutrennikh Del.; eng: the People's Commissariat for Internal Affairs]: by 1934 a Soviet unified ministry responsible for political surveillance, intelligence services, political criminal justice, administration of penal and exile camps, and border protection. It as the instrument of Stalinist terror.
[5] Tefillin: phylacteries; leather boxes containing texts from the Torah. According to Jewish law, they are worn on the forehead and the left arm.
[6] Bar mitzvah [Aramaic: son of commandment]: the term for, on the one hand, boys who have reached religious maturity and, on the other, the day when this coming of age ritual is celebrated. During this ritual, the boy is accepted into the community.
[7] Seder [Hebrew: Order, arrangement]: the ritual feast marking the start of Passover.
[8] Shabbat [Hebrew: rest]: the seventh day of the week; the day of rest in remembrance of God having rested on the seventh day during the Biblical creation of the heavens and earth. All forms of work are forbidden on Shabbat so that believers are able to spend time with God. Shabbat begins at sundown on Friday evening and ends at sundown on Saturday.
[9] Kiddush: from the Hebrew work "kadosh," meaning holy. It is a blessing recited over wine on Shabbat or other holidays.
[10] The High Holidays: Rosh Hashanah [New Year's festival] and Yom Kippur [Day of Atonement]
[11] Peyes [or payot, payos, peyos]: the Yiddish term for the sidelocks worn by devout Jews. Wearing a beard and sidelocks comes from a Biblical ban on touching the face with sharp and cutting objects.
[12] Melamed [Yiddish: teacher]: taught 4-8-year-old-boys the Bible, reading and writing Hebrew, and basic arithmetic in the cheder of the shtetl.
[13] Hashomer Hatzair [Hebrew: "The Young Guard"]: first Zionist youth organization, founded in 1913 in Austria-Hungary. The main objective was immigration to Palestine and the founding of kibbutzim.
[14] Sheitl: wig worn by Orthodox Jewish women
[15] Austrian Independence Treaty; or Austrian State Treaty [Österreichischer Staatsvertrag]: treaty establishing Austria as sovereign state. The treaty was signed by the Allied powers – the USSR, Great Britain and Northern Ireland, the USA, France – and Austria. The signing took place on 15 May 1955 at Schloss Belvedere in Vienna.
[16] Passover: an eight-day celebration in commemoration of freeing of the Israelites from slavery in Egypt. Also known as Pesach and the Feast of Unleavened Bread.
[17] Rosh Hashanah [Hebrew: Head of the year]: The Jewish New Year. Takes place on the 1st of Tishri in the Jewish calendar, which is usually late September or early October of the Gregorian calendar.
[18] Yom Kippur: Jewish day of atonement; the most important holiday in Judaism. Atonement and repentance are the central themes. Eating, drinking, personal grooming, wearing leather, and sexual relations are forbidden on this day.